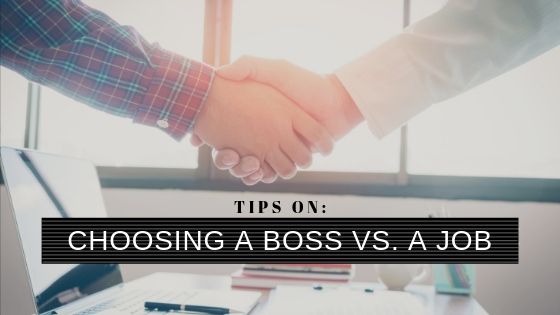 Contributed by Jeff Simmons
Choosing A Boss VS. A Job
When considering your next position, consider choosing a boss instead of choosing a job. Working for the right boss can positively impact your feelings about your job as well as the company you work for.
How do you choose the correct boss for you?
Simply put, the interview process is a two-way street. The boss should be in the interview as they should be making the final decision on a potential hire. While in the interview and you are being questioned, make sure you are interviewing them right back. Make sure that you have chemistry with your potential boss. A common interest or a sense of humor are just a couple factors in determining how you may get along. It is important to be working for someone whose personality meshes with yours. Do not be so wrapped up in getting the position that you fail to see personality issues that may negatively impact your future.
Prior to your interview, sit down and think about what type of supervisor you have previously excelled under. Also, determine if there have been any that you have had difficulty working for. Beware of these traits during the interview.
What do you want to see in your future boss?
Most people want a boss that supports you, trusts you and believes in you, even when you do not believe in yourself. Most also want a boss who is approachable yet constructively provides feedback. A desired boss should give credit to employees as opposed to taking all the credit for departmental success. Listen for clues during your interview to see what type of person the boss is. A good boss is going to give you the opportunity to succeed, making a difference in your career.
After your interview, take a moment to evaluate your potential boss. Have they done the job or maybe still do it? How did they come upon their job and how long have they been doing it? Did you have the level of comfort that you will be able to learn from and work with them for the next three plus years? Is this person going to protect you or throw you under the bus? A good boss will attract strong talent, a bad one will repel it. What do your instincts tell you?
Still having reservations?
If you are still concerned and an offer has been made, do not make the decision hastily, ask for another meeting with your future boss. Make sure you have all of the information prior to accepting a position. Never accept a position based on just the wage or prestige.
Do you know anyone you can contact who works or has worked for your potential boss or at least the organization? Make sure that when communicating with this person it is the spirit of knowledge acquisition without stating any concerns unless this contact can truly be trusted.
Summary
As someone who has changed positions in the last few months I understand what you are going through. A poor boss can take good staff and ruin it, causing the best employees to leave and those remaining to lose all motivation. You do not want to accept a position only to realize a couple months in that you cannot coexist with your boss because leaving a position after such a short time is not something you want on your resume. Some words of wisdom coming from a recent new hire, make sure you have all of the information possible prior to making your decision. Choosing the correct boss, simply put, may be the difference between success and failure.